October 8, 2018
Choose lithium-ion for your single phase UPS
The advantage of choosing lithium-ion over VRLA Lithium-ion batteries had not previously been used for single-phase UPSs, often because of price. But, a 10-year Total Cost of Ownership (TCO) analysis shows a decrease of TCO up to 50% when using lithium-ion batteries over VRLA batteries.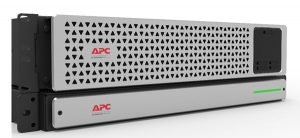 Lithium-ion batteries are also more compact and lightweight, weighing one third lighter than VRLAs. This makes lithium-ion an easier option for installation and maintenance. Lithium-ion also provide more battery life, and a longer lifecycle, than VRLAs.
For more information, please view this APC white paper on the benefits of Smart-UPS™ lithium-ion battery technology.  Please contact your NETP sales representative for additional information.