June 28, 2017
CommScope is proud to offer a new field installed connector solution that simplifies termination of UTP cable to an RJ45 plug.  As more equipment moves into the ceiling, the demand for high quality field termination solutions has grown.  To be successful, the solution must meet customer needs of ease of installation, consistent termination, and superior performance. CommScope has met these requirements with the Ceiling Connector Assembly (CCA).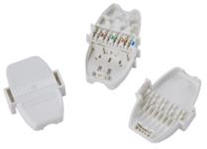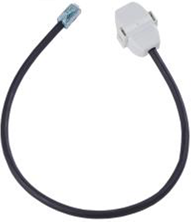 The CCA is a field terminated connector solution that does not require special tools to terminate and can be easily attached to a horizontal cable using a cutoff tool and pliers.  There are no small parts that could be lost or dropped, making installation on a ladder feasible.  Quick and reliable terminations are key to the product's features that simplify installations in the ceiling.
The CCA will work with all Category 5e, Category 6, and Category 6a installations supporting all SYSTIMAX, NETCONNECT, Uniprise, and CommScope branded UTP cabling solutions.  The product will be sold with an 18" UTP pigtail pre-attached or as a stand alone connector where any length of UTP pig tail can be used for the application.  Plenum and LSZH options are available.
Please contact your NETP representative for additional information and part numbers.