October 31, 2017
This Halloween Treat is no Trick from NETP, beginning on November 1st we are proud to announce our representation of Igor Inc.  Igor's innovative PoE platform enables unprecedented levels of intelligent control over LED lighting systems.  Igor makes the promise of smart buildings a reality by leveraging the technology convergence of the Internet of Things.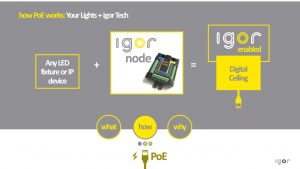 Igor's lighting platform decreases installation and retrofitting costs with an open, non-proprietary 'plug and play' PoE technology, lower upfront costs and ongoing savings via lowered maintenance requirements and energy usage controls. For retrofits of existing structures such as schools, retail buildings, offices and healthcare facilities, universal adaptability is necessary to realize the benefits of connected lighting. Igor's PoE technology is fully integrated, yet modular, connecting any lighting manufacturer's "off-the-shelf" LED fixtures with sensors. Igor's solution also includes a powerful cloud analytics option, which can provide customizable dashboards detailing energy usage, and sensor data to monitor facility costs and efficiency.

For additional information on this exciting new product line, please contact your local NETP representative.