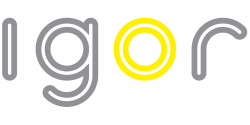 A group of long term investors in Igor have decided to purchase the company to continue the legacy of Igor's Power-over-Ethernet smart building technology.  Igor Founder, Dwight Stewart states this transition secures the company's future thanks to the financial commitments of Igor's new owners. "A few of our investors have bought the company with a focus on ushering in an era of profitable calculated growth and increasing customer returns. Thanks to this strong backing, we will focus investment in advancing Igor's hardware, software, and services to attain rapid low-effort installs and maintenance, while delivering higher-value actionable data reporting and customer outcomes".  Dwight Stewart will remain on to run the company.
The new owners:  Brent Haverkamp, Sean McMurray, Jim Cownie and Paul Hayes say they believe the company will continue to lead the way in smart building systems. "We are pleased with the way Igor has responded to this environment. We are investing for a long-term future with the leading facility data software in the business" said Paul Hayes, Investor.
Throughout the past several years, the company has been awarded several large enterprise contracts including Microsoft, Pfizer, and WiPro. The infusion of capital will assist the company in catching up with the large demand for their suite of smart solutions.